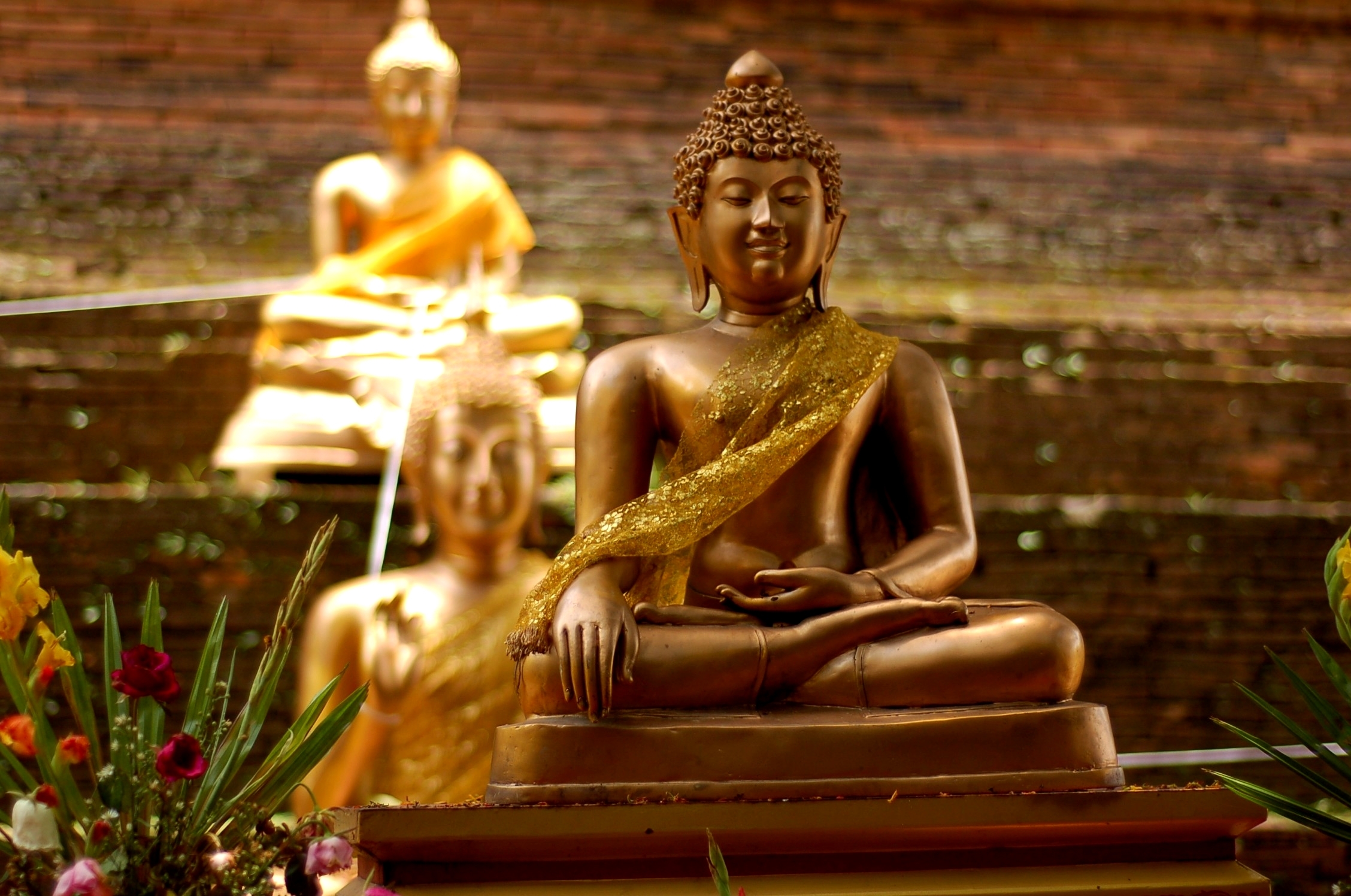 A brief summary of the beliefs of Buddhism
Many stressed Westerners are tempted to embrace Buddhism with its promise of enlightenment through exercises of meditation. Having rejected traditional forms of Christianity, much of it, like Roman Catholicism, false, they hope to find peace in Buddhism or other Eastern religions. Buddhist meditation may cause feelings of calm but it is a false religion. 
First, Buddhists have a false view of God:
Buddhists differ over the question of God.  The original 'Buddha' taught that there are gods, but these are just spirits on the same path towards enlightenment.  Some branches of Buddhism worship the Buddha as a god, others do not.
The Bible says that there is one true God.  All other gods are false, indeed no other God exists except the true God.  For example the Lord God says 'I am the first and I am the last and beside me there is no God' (Isa. 44:6). Jesus said, 'This is life eternal, that they might know Thee, the only true God and Jesus Christ whom Thou hast sent' (John 17:3).  The Bible also says: 'We know that an idol is nothing in the world and that there is no God but one' (1 Cor. 8:4)and 'the things which the Gentiles sacrifice, they sacrifice to devils and not to God' (1 Cor. 10:20). All who worship different gods (or even themselves) as well as or instead of the one true God, the God and Father of our Lord Jesus Christ, are lost.  That includes all Buddhists.
Second, Buddhists have a wrong view of Jesus Christ:
Buddhists believe that Jesus was merely a man, some would say he was a man who reached a high level of enlightenment but that he was a mere man nonetheless.
The Bible teaches that to have a false view of Christ is fatal.  'He that believeth not the Son shall not see life: but the wrath of God abideth on him' (John 3:36). 'If ye believe not that I am he, ye shall die in your sins' (John 8:24). 'And this is the record, that God hath given to us eternal life, and this life is in his Son.  He that hath the Son hath life; and he that hath not the Son of God hath not life' (1 John 5:11-12). 'Whosoever transgresseth and abideth not in the doctrine of Christ, hath not God' (2 John 9). Anybody who denies the Person (that He was God and true, sinless man), the Doctrine and the Work of Christ is lost. That includes all Buddhists.  
Third, Buddhists have a false way of salvation:
Buddhism teaches that man has to work in order to find salvation from suffering. He does this by following the 'Noble Truths': Right Understanding, Right Thought, Right Speech, Right Action, Right Livelihood, Right Effort, Right Awareness, Right Meditation.
This is just the proud error that man has believed  since the beginning: self-salvation.  The Buddhist does not believe that he is a sinner and needs to be saved from the guilt, punishment and pollution of sin. Buddhists do not have a correct view of sin: the transgression of the holy law of God.  Buddhists have no understanding of original sin: that all people are born totally depraved because they sinned 'in Adam'.  They believe that man is basically good and can achieve enlightement by his own efforts. However, all the supposed good works man does are eloquently described in Scripture as 'dung' (Phil. 3:8) and 'filthy rags' (Isaiah 64:9). The Christian does not want to be found in his own righteousness, but to be found in Christ.  Paul (who was a Pharisee before his conversion) says this: 'But what things were gain to me, those I counted loss for Christ. Yea doubtless, and I count all things but loss for the excellency of the knowledge of Christ Jesus my Lord: for whom I have suffered the loss of all things, and I do count them but dung, that I may win Christ, and be found in him, not having my own righteousness, which is of the law, but that which is through the faith of Christ, the righteousness which is of God by faith'(Phil 3:7-9).  When God saves a person, all glory must go to Him.  No sinner can boast in God's presence that he attained salvation in any sense by his own efforts.  Any sinner who believes that salvation is by works is lost, no matter how sincere and outwardly nice he is.  That includes all Buddhists. 
Fourth, peace is to be found in Christ alone:
Peace comes from having one's sins forgiven in the blood of Jesus Christ.  When a sinner knows, really knows, that he has eternal life, trusting that Jesus Christ bore the curse and guilt of his sins, he has peace.  How can a Buddhist have peace?  He never knows if he has done enough to achieve salvation.  He can never tell if on his death he will cease to exist (which is the ultimate goal of Buddhism!), come back as a worse or better form of life, or awake in hell. What a torment that is!  
The child of God knows peace: 'I will both lay me down in peace, and sleep: for thou, LORD, only makest me dwell in safety' (Ps. 4:8); 'Great peace have they which love thy law: and nothing shall offend them'(Ps. 119:165). Christ is called the 'Prince of Peace' (Isa. 9:6); and 'the chastisement of our peace was upon Him' (Isa. 53:5), meaning that the punishment which brought peace to sinners was upon Him. Only by satisfying God's justice on the cross could Christ make peace for sinners with God. However, to the wicked 'there is no peace' (Isa. 57:21) because they 'have not known the way of peace' (Rom. 3:17). To His followers Christ says, 'Peace I give unto you' (John 14:27). Many of the Epistles start with the greeting of peace (Rom. 1:7 etc.).  The fruit of the Spirit is peace (Gal. 5:22). Christ's work brings peace: 'Being justified by faith, we have peace with God through our Lord Jesus Christ' (Rom. 5:1).  'For he is our peace, who hath made both one, and hath broken down the middle wall of partition between us'(Eph. 2:14). He 'made peace through the blood of his cross' (Col. 1:20). All who reject the peace-making Atonement of Christ on the cross are lost, including all Buddhists.